Instant Machine Translation
We are waiving the fees for Instant Machine Translation service during the global COVID-19 pandemic.
Invoice details are required to create your account in our system, however you will not be charged to use the instant machine translation service
Unlike other free translation tools in the public sphere, Our Instant Machine Translation is extremely secure which allow your to translate confidential information, without risking the data being retained by the service provider.
Instant Machine Translation tool is powered by Artificial Intelligence and provides users with high quality instant translation.
Key Features:
Security
thebigword provide an extremely secure Machine Translation,
ensuring all your internal and confidential information is not
risking the data being retained by the service provider.
Efficiency
Instant MT process is a seamless process that provides a high
quality outcome, within seconds of implementing your data.
Quality
Our tools automatically measure and report on the quality of
our machine learning workflows and engines providing our
clients with higher quality translation.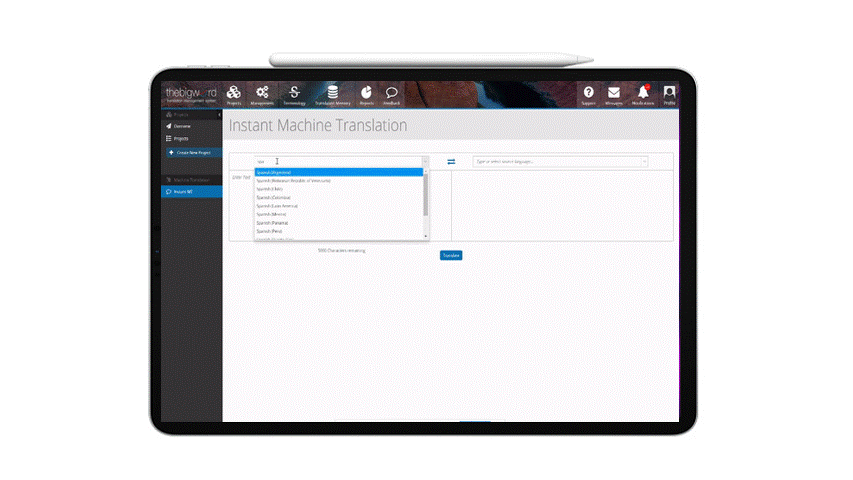 New account
Get access to our Translation Management System
thebigword' powerful Translation Management System (TMS) allows you managed our your translation projects in one simple platform, from Machine Translation to complex enterprise translation workflows.
Service available in TMS:
Machine Translation powered by AI
Crowed sourced translations
Human translations
Specialised translations
Highly secured Translation Editor
Translation Memory and Terminology management
Review Tool
Workflow automation